"Ask me about our new products!"
Another simple direct promotional use for small order shirts: Engage people by telling them they can ask your staff for more information about your product, business or event.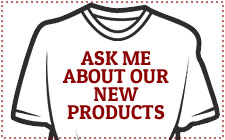 You can include all sorts of information when using shirts like this:
Telephone numbers;
Website addresses;
QR codes;
Dot-point facts;
Discount details; and
Dates of offers.
Contact us to discuss what you need.