Here at Qtees, we're focused on smaller orders – as a way to deliver benefit to small, local businesses and organisations.
Over time, we've seen that there's a gap that isn't filled by large-scale minimum quantity teeshirt printing and supply outfits, and as a result groups with smaller requirements are either left out, or are simply overcharged.
And smaller orders allow us to focus on getting the quality right not just for the printing and the shirt materials, but also in terms of customer service quality.
Shirt sourcing
Qtees shirts are sourced from the same manufacturers as those supplying large chains, and so the same quality assurance levels are guaranteed at production stage.
We coordinate sourcing, production and delivery, based on your requirements and location.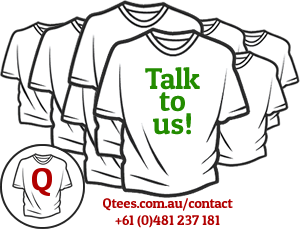 Contact us directly for any information that you need when considering your teeshirt requirements.