"Great event! I was there! Were you?"
Here's an example of something you can do with a promo teeshirt, even if the event is in the past: Get people thinking about it positively by telling them it was a great event.
If they were there, they'll be reminded of good times, and if they weren't they'll be curious about when the event's on next.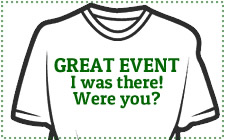 And it's not just events that this can work for.  How about:
Small festivals
City council events
Market days
Cultural celebrations
Sports clubs
And the list goes on.
Contact us with any questions.