Promotional clothing for larger events
You can use shirts, polos and printed sweaters to tell people about your conference, exhibition or other larger event, whether in advance or after the event.
These can be worn by your own staff, or venue staff, and can be used as door prizes and additions to event raffles.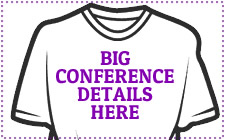 If you intend to run pop quizzes around the venue during your conference or expo, why not make the prize for best response at polo shirt to teeshirt, promoting your business at the same time.
Plus they make great give-aways, making them passive marketing items that reinforce your brand throughout the year.
Contact us for more info.