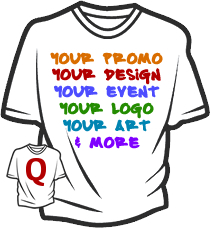 Small business?  Community organisations?  Small events?
These are our specialty: Small orders for small organisations, businesses and events.
Why?  Because regular t-shirt suppliers demand huge minimum orders, and the cost of that – traditionally – has been very high.
Not any more.
We source and deal directly with top manufacturers in order to keep all costs down.
The difference is this: With Qtees you're not paying for the logo that a high-street store puts onto the garment – which they charge you for.
What about quality?
Our t-shirts are 100% cotton, and come from the same manufacturers as a number of high-street stores.
Our basics are:
Blank round neck t-shirts
Polo neck shirts
Sweatshirts
Custom printing methods
Direct-to-garment printing (DTG)
Screen printing
Transfers (in case you want a quantity of more than 200 pieces for your design)
Sublimation printing
Computer-driven embroidery
Material colours
Below are some of the material colours Qtees provides as a standard range.